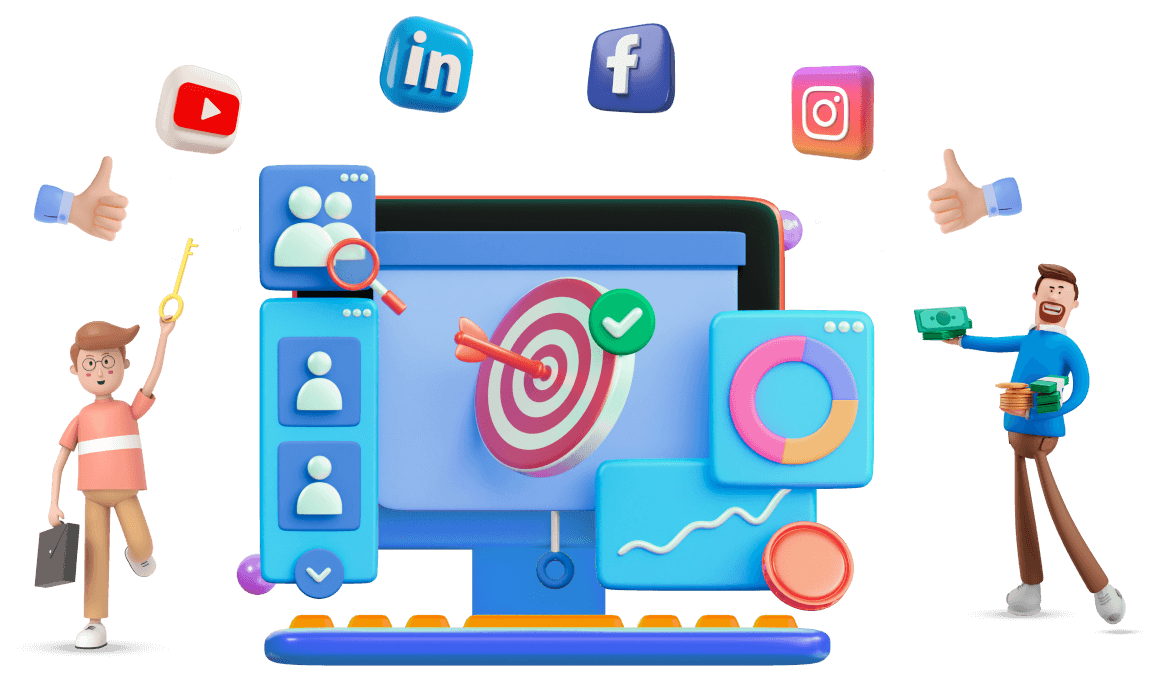 Digital Marketing - Online marketing, is used for promotion of brands and to connect with potential customers. It broadens geographic reach as it includes not only email, social media, and web-based advertising.
We offers service given below :
Content Marketing - We specialize in outstanding content writing so that your company develops and also gets target audiences to think about your brands. Basically, Content marketing attracts an audience of potential buyers, increases awareness of the brand, and influences consumer behaviour. Content marketing adds enormous value to the table. We customize content marketing to generate the leads. We create compelling content and use it to boost your conversions through Content marketing services which helps you to get new customers. We create and promote personalized (and search engine friendly) content for your company. This enhances the prestige of your brand. Lead generated through this strategy has an ability to achieve much higher conversion rate due to the degree of confidence we developed for your brand.
Graphic Designing
Visual content transforms quicker than words alone. It attracts more customers rather than long lines of text. Visuals and graphics break up the monotony and add interactive elements to content. Content marketing strategies that are driven by interactive media outperform all others. We turn your brand into an ROI engine with a range of visual assets that support your content marketing efforts. Appdid being a leading content marketing agency, helps you attract a wider market, cultivate high-intent opportunities, and improve consumer experience with the essential product. These are the core functions of our graphic design services. We develop personalized product sheets, one-pagers, ads, promotional materials, internal reports and records, customer-facing guides, and email models. We can also offer print products, business cards, brochures, direct mail, corporate logo design, and advanced marketing and design services that help your website stand out from the crowd.
Social media marketing
More investment gets more profits. Appdid will help you to grow faster with social media advertising. Don't waste your money on social media marketing like others without proper understanding of the social media market. There are companies that flush billions on their marketing budget while there are others who spend not even a single penny on it! Regardless of the amount you're planning to pitch in, your main agenda should focus on spending the resources well.
Anyone who owns a business is most likely to wonder about social media marketing and its budget. After all, social media is the new gateway to success for brands as it's the most powerful approach to interact and appeal to consumers with your brand. Facebook has 1.18 billion and Twitter has 313 million users worldwide. With figures like this, apparently, it's too tough to ignore social media in your marketing plans.
Pay-per-click
PPC advertising model is where advertisers pay when someone clicks on their ad. Think of it as buying visitors to your website. It is also referred to as Paid Search, Pay Per Click Marketing, Paid Search Marketing or Search Engine Marketing (SEM).
Quick Entry
Measurable & Track able Results
Access to Data
Customer Insights
Control
PPC work is like a faucet. You can turn it on, and active buyers start flowing into your website, enquiring about your services.
Appdid is a service of PPC, by which we help you to generate quick leads and sales when you need them. And you can just as easily pause it or turn it off.It achieves this cost effectively which is useful especially in times like these. This form of advertising is suitable for a wide range of businesses, and in many industries Google Ads have become an essential part of the marketing budget. PPC is also done on social media platforms like Facebook, Instagram, LinkedIn, etc.
Through this model advertisers create ads and pay a pre-arranged fee each time their ad is clicked on. These ads are shown within search engine results or in a variety of ways on different social media platforms.
Search engine marketing
SEM Search engine marketing, or SEM, is one of the most effective ways to grow your business in an increasingly competitive marketplace. With millions of businesses out there all vying for the same eyeballs, it's never been more important to advertise online, and search engine marketing is the most effective way to promote your products and grow your business.
In this guide, you'll learn an overview of search engine marketing basics as well as some tips and strategies for doing search engine marketing right.
Search engine marketing is the practice of marketing a business using paid advertisements that appear on search engine results pages (or SERPs). Advertisers bid on keywords that users of services such as Google and Bing might enter when looking for certain products or services, which gives the advertiser the opportunity for their ads to appear alongside results for those search queries.
Affiliate marketing
The Internet has increased the prominence of affiliate marketing. Amazon popularized the practice by creating an affiliate marketing program whereby websites and bloggers put links to the Amazon page for a reviewed or discussed product to receive advertising fees when a purchase is made. In this sense, affiliate marketing is essentially a pay-for-performance marketing program where the act of selling is outsourced across a vast network. Affiliate marketing is an advertising model in which a company compensates third-party publishers to generate traffic or leads to the company's products and services. The third-party publishers are affiliates, and the commission fee incentivizes them to find ways to promote the company.
Email marketing
Our content marketers develop newsletters using data-driven insights and promotional best practices that engage readers and build your email list. Writers also use email templates that include custom illustrations and CTAs to create press releases and promotional emails that share information regarding brand updates, events, and campaigns across distribution lists. The email copy can also be circulated and handled in conjunction with your preferred distribution campaign using all major email service providers and marketing automation software. Newsletters and other email content are built from the ground up to meet your digital marketing needs, from brand recognition to thought leadership to generation leadership, and reach your target audience at every level of the sales funnel.